Radio Fox NEWS
The very latest from Radio Fox
14 March 2019 – Beginning on Saturday 13th April a brand new free exhibition opens at Leicester's New Walk Museum.  Mods: Shaping a Generation explores the sub culture's impact on society.
Mods: Shaping a Generation tells the story of the 1960's Mod scene in Leicester and Nottingham, the exhibition focuses on the themes of social, financial and creative freedom via exclusive first-hand eye witness accounts and unpublished images.
Ahead of the Saturday 13th opening Radio Fox resident Mods Jonny Bance and Cliff Wheatcroft host a 2 hour show on Saturday 6th April from 10am. Jonny and Cliff will be spinning sounds from the era and interviewing Shaun Knapp, author and exhibition curator & designer, Joe Nixon co-founder of Arch Creative and musician Kenny Wilson who was a Leicester Mod at the time.
Plus on Wednesday 3rd April at 8pm Radio Fox cool faces Alan T and Paul Knight host 2 hours of the most excellent Mod tuneage from the sub culture. Levi Sta-Prest trousers, Ben Sherman or Brutus shirts, Brogues, and Harrington jackets are definitely not optional.  On Sunday 14th April Andy Valentine presents a Pirate Dayz Mod Special. Tune in to Radio Fox at 8am to hear some of the finest Mod music.
Both Radio Fox shows can be listened to live by clicking here on the day or you can Listen Again by going to our catch-up listening service after the shows have aired.
The New Walk Museum exhibition also celebrates the 40th anniversary of the release of The Who's cult Mod film, Quadrophenia, and will include a screening of the film, Q&A sessions, plus ephemera and original 1960s clothing as seen in the film.
The exhibition also re-visits legendary hang-outs visited by the Leicester and Nottingham Mods including The Nite Owl, The Il Rondo and the Dungeon. Plus a look at the local Mod bands of the time.
Mods: Shaping a Generation is also on Facebook
13th April 2019 until 30 June 2019 at New Walk Museum & Art Gallery
Free entry, open 7 days a week:
Monday – Friday 11:00 – 16:30
Saturday – Sunday 11:00 – 17:00
15 January 2019 – Back in 2016 Radio Fox began fundraising to buy a new audio desk and refurbish our main studio. All these months later it may have seemed like we had forgotten about it but nothing could be further from the truth.
Our engineering team have been busy all this time and now we are getting very close to completing the project. Very soon on this website you will be able to see the first pictures of our new studio.
Currently we are in the process of fine tuning the audio and associated equipment. At some point in the next couple of months we will be holding an official opening ceremony complete with 'celebrity' guests and popping champagne corks…
It must be said that it couldn't have been done without the many individuals, organisations, and businesses of Leicester and Leicestershire who gave their support including The Elms Social Club in Wigston, Caterpillar (UK), Pall-Ex, Asda, Next, Barratt Homes – North Midlands Division, Cambridge & Counties Bank, Taylor Bloxham, Squire Alarms Ltd, Ibstock Brick Ltd, Police Mutual, Leicestershire & Rutland Freemasons, Pukka Pies Ltd, HSBC Bank, and Ashfield Healthcare.
The wait is almost over.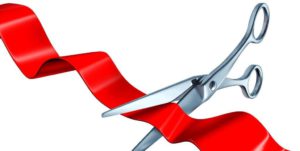 29 September 2018 – Long serving Radio Fox presenter Richard Leatherland has been nominated for the prestigious Caring At Its Best Award 2018.  As well as being a Radio Fox volunteer presenter Richard is also a member of UHL staff.
The annual Caring At Its Best awards ceremony took place recently and saw over 500 staff, volunteers and supporters of Leicester's Hospitals enjoy an evening of celebration at The Athena in Leicester.  Everyone at the event was interested to hear Richard explain all about how Radio Fox supports the patients within Leicester's Hospitals.  As well as being a presenter at Radio Fox Richard has also served on the committee at the station and been involved with fundraising.
The awards are a platform to showcase the hard work of everyone involved in all aspects of Leicester's Hospitals and to commend the achievements of an extraordinary few.
You can listen to Richard live on Radio Fox every Sunday 6pm to 8pm when he hosts The Sunday Selection, the Sunday patients request show. You can also hear Richard live and loud on The Leather & Denim Rock Show every Saturday from 7pm.
You can Listen Live to Radio Fox 24 hours a day but did you know you can also Listen Again on our Catch Up service to any of your favourite shows or presenters including Richard.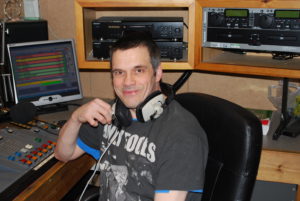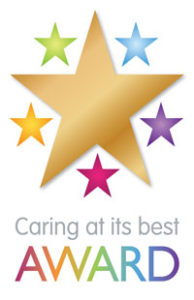 12 September 2018 – The computers are working, the CD players are working, the kettle is working, but for some reason this Friday 14th September 6-2-8 Show vinylmeister Michael Lord will be doing an all vinyl show.
On Friday evening 14th September the unthinkable will happen on Radio Fox… a whole two hours of specially selected vinyl will be showcased on the 6-2-8 Show between 6pm and 8pm show with your host Michael Lord.
All vinyl …. that's ALL vinyl including the usual award winning features – such as "The Song Doesn't Remain The Same" "The A-Z Of One Hit Wonders" and "The Mystery Year"
It can't be done they said…. tune in to see if they were right!!  Tune in right now to Listen Live to Radio Fox by clicking here.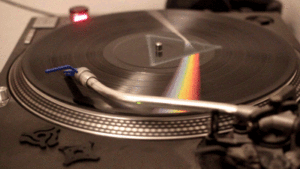 If you are under 30 years old you may have no idea what all this vinyl stuff is, if so click here to see what all the fuss is about.  Turn the volume up and don't be afraid of the crackle.
25 August 2018 – Next Saturday 1st September will be the Syston Carnival.  As always Radio Fox will be there providing the music, making the announcements, and handing out Radio Fox Magazines and generally spreading love and happiness to all.
The Radio Fox team will be there providing the soundtrack and making the announcements.  The carnival will be held in Central Park (that's Central Park Syston not Central Park New York…) from midday to 5pm.  So please come and visit the carnival and stop by the Radio Fox stall and say hi to the Foxy crew. This years theme is The Great American Wild West so feel free to wear your cowboy hat and boots. And yes we will be playing Achy Breaky Heart…  Yeee Haww
If you would like to hire our PA Service for your next event please contact Scott Mclaren on scott.mclaren@radiofox.co.uk to discuss your booking.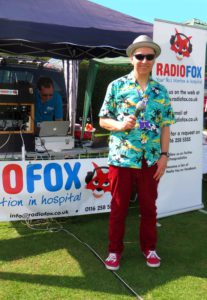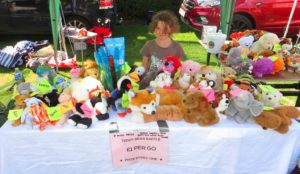 11 August 2018 – Starting Wednesday 15th August at 8pm a fabulous new show begins on Radio Fox.  Get ready for action when Alan T and Kirstie Peacock (the Radio Fox Girl Wonder in the making) take over the Wednesday evening edition of the Patients Request Show.
From Wednesday 15th August old timer Alan T and new girl Kirstie Peacock take over the reins of the Patients Request Show. With live requests from the wards, competitions, prizes, and features. Call in and join in the fun or sit back and enjoy the ride either way it's 2 hours of delicious entertainment for free.  Email the show on studio@radiofox.co.uk
The Wednesday Night Patient Request Show will be repeated the following Wednesday afternoon from 3pm until 5pm and available to Listen Again anytime for free by clicking here
Click Listen Live to listen to Radio Fox 24 hours a day for free.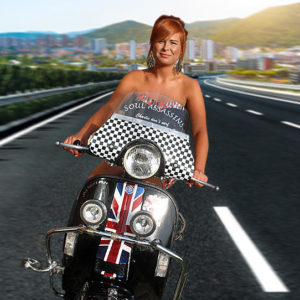 17 July 2018 – In 2016 Radio Fox began a dedicated fundraising drive to buy a new audio desk and refurbish our main studio. You might have thought it had gone quiet since we reached our target and maybe you thought nothing had been happening.  How wrong can you be?
Our engineering team have been very busy every week since we reached our target.  Much tea has been drunk, plans have been drawn, new wall coverings applied, old floors resurfaced and new carpet laid, new lighting installed, new electric wiring and services, new computer wiring and services fitted.  Through the sweltering heat of the summer the team have been sawing, drilling, sanding, wiring, gluing, spraying, staining, varnishing, painting, sweating chiseling, hammering, and tea drinking.
The first thing we bought was the new audio desk although it will be the last thing to be needed in the refurbishment.  Currently the team have taken delivery of new furniture and are in the process of planning the layout of the new studio. So next we'll be putting our carpenters hat's on and getting out the hammer and nails.
At some point in the coming months everything will be completed and then we will be holding a grand opening and party for the new studio and inviting all the friends and benefactors of Radio Fox to celebrate.  Keep your eyes on this website for the big reveal.
It couldn't have been done without the many individuals, organisations, and businesses of Leicester and Leicestershire who gave their support including The Elms Social Club in Wigston, Caterpillar (UK), Pall-Ex, Asda, Next, Barratt Homes – North Midlands Division, Cambridge & Counties Bank, Taylor Bloxham, Squire Alarms Ltd, Ibstock Brick Ltd, Police Mutual, Leicestershire & Rutland Freemasons, Pukka Pies Ltd, HSBC Bank, and Ashfield Healthcare.
You'll notice there are no photos here, that's because we're keeping it all under wraps until the great reveal.
1 July 2018 – Radio Fox and all Hospital Radio stations across the UK have been asked by the team at NHS Voices if we can support their song which is being released on Friday 6th July to celebrate the NHS70 anniversary. On ITV1 on Wednesday 4th July at 9pm on there will be an attempt at a world record for the biggest singalong. Please tune in on the night and be part of this record breaking attempt.
NHS Voices brings together superstar singers and healthcare heroes to create a special single that marks the 70th birthday of the NHS. Created by a team of NHS employees, this anniversary anthem gives everyone a chance to celebrate the dedication of healthcare staff. The choir have recorded the Beatles song, With A Little Help From My Friends. 2 years ago, the choir had a Christmas No 1, and the same choir (from Lewisham and Greenwich NHS Trust) plus a collection of famous voices who will be joining them on the night, including Blue, Alexandra Burke and Tony Hadley. To be screened on ITV1 on Wednesday 4th July at 9pm on there will be an attempt at a world record for the biggest singalong. The event is also supported by other famous musicians. Be sure to tune in on the night. ITV will be releasing details of the huge nationwide singalong to launch the single shortly.
The single With A Little Help From My Friends will then be released on 6th July 2018 to celebrate NHS70, and all proceeds will go to NHS Charities Together. Radio Fox would like all its members and many friends in Leicestershire to support this event.
25 June 2018 – The Children's Hospital School Leicester will be celebrating its 70th anniversary celebrations in 2019. As part of the celebrations The Hospital School are looking find pupils who used to attend the  Children's Hospital School Leicester, so we can invite them to join in our 70th anniversary celebrations.
The school was started by a teacher with four fold up chairs, in the oxygen room at Leicester's General hospital in 1949. Since then, thousands of children from Leicestershire and Rutland, who were too poorly to attend mainstream schools, have been taught by our school either while they're in hospital, at our special day school or at home 25 June 2018 –.
If you or a family member attended the Children's Hospital School please get in touch on the following email address:  rbean@childrenshospitalschool.leicester.sch.uk

25 June 2018 – The National Health Service is turning 70 on 5th July 2018. It's the perfect opportunity to celebrate the achievements of one of the nation's most loved institutions, to appreciate the vital role the service plays in our lives, and to recognise and thank the extraordinary NHS staff – the everyday heroes – who are there to guide, support and care for us, day in, day out. This year is the perfect opportunity to celebrate the achievements of one of the nation's most loved institutions, and more particularly, what we have achieved, those who have learnt and worked here, and those we have cared for at the three hospitals in Leicester. Nationally, over the last 70 years, the NHS has transformed the health and well being of the nation, providing free high quality health care for all which has subsequently made it the envy of the world.
In Leicester we are holding our Big 7-Tea Party on 5th July at Devonshire Place and an event for families we're working on with the University of Leicester – a Teddy Bear's Picnic. See our poster.
The University of Leicester and the local NHS Trusts it works with every day would like to invite the Leicester community to attend a FREE Family Day at the University's main campus. We would like to raise awareness about the NHS and its wonderful gift to us, and encourage our children – the next generation – to value our healthcare system and support the NHS as it goes forward.
Children and their favorite stuffed animals are invited to join us for a Teddy Bear Clinic, a fun event that helps educate children about what happens at the doctor's office.
Each child's stuffed animal is checked-in, then children take their animals in to meet with a medical student doctor  for a check-up. Medical students will also be running mini-health checks for the teddies owners and their parents.
Are you a Leicester Baby we're looking for your baby photos.  NHS70: Share your stories! To mark the 70th anniversary of the NHS, we are asking you all to share your stories with the Hospitals!
The event will also have stalls and demonstrations from the following:
The Leicestershire Partnership Trust will talk about child health and safety, as well as do paediatric first aid demonstrations and give talks on nutrition.
University Hospitals Leicester will demonstrate the fun in science, and have clinicians and experts from Paediatrics and the Children's Hospital.
Performances from STARS Youth Choir
Checks from the Leicester Diabetes Centre
Juicing and smoothie demonstrations from Together Against Cancer
CPR training from HeartWize
Relaxation and well-being in children workshops from the Wellbeing Crew
Alice in Wonderland performing acts from Enter Edem
Arts and crafts from the Creation Station – worry dolls, play d'oh healthy pizza, pasta skeletons, foot and hand-print fruit and vegetable characters.
Bouncy castles – one for under 5s and one for over
Leicester University Community First Responders will be there giving defibrillator training.
Outreach activities like 'Brain Hats' and 'Heart Pumps'.
Stalls and activities from charities like: Rainbows Children's Hospice; The Children's Cancer Leukemia Group, Leicester Hospitals Charity Children's appeal, the Way of the Horse, LAMP, and Leicester Marrow society
Catering will be provided by:
The Real Junkfood Project
Picks Organic Farm
JKM Hot Potato
Tilly's Mobile VW Ice Cream Parlour
Free parking will be available in the Welford Road car-park.
Entry is free, but we will ask visitors to donate whatever they like towards the Children's Hospital appeal.