Happy New Year 2018 from everyone at Radio Fox
2 Jan 2018 – A big 'Foxy' Happy New Year from all your volunteer presenters at Radio Fox. We're hoping it is going to be a big one for us!
2018 promises to be a big year for Radio Fox. Not only will it be our 30th birthday in April but after 18 months of fundraising we are ready to take delivery of our new audio desk in January. We would like to thank all the local businesses and organisations of Leicestershire who generously gave donations to enable this to happen. We also intend to refurbish our main broadcasting studio. Once this has been completed we propose to have a grand opening of our new studio facility with ribbon cutting and champagne all round. All the local businesses and individuals who made it possible will be invited.  Keep your eye on this website to see how we are progressing.
Talking of champagne, congratulations are in order for Radio Fox volunteer presenter Tindy C for being nominated for a national hospital radio award for best female presenter in the Hospital Broadcasting Association awards 2018. Tindy is no stranger to the HBA awards having won in previous years.
No doubt there will still be challenges to be overcome in 2018 but the Radio Fox volunteers are more than ready for the task ahead.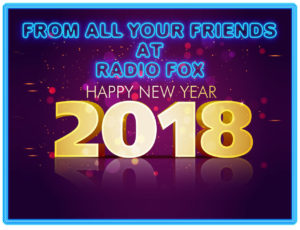 This entry was posted by alentee54 on 2nd January 2018 at 11:53 am, and is filed under Radio Fox NEWS. Follow any responses to this post through RSS 2.0. Both comments and pings are currently closed.