4 Nov 2019 – Did you know you can now access free Wi-Fi at any UHL hospital? This means you can enjoy listening to Radio Fox in glorious stereo for free on any smartphone, tablet or similar Wi-Fi enabled device.
Follow these simple steps to listen to Hospital Radio Fox whilst you are in hospital. Radio Fox is completely free with no advertising, it is operational 24 hours a day. Hospital Radio Fox is run totally by unpaid volunteers and is broadcast exclusively for patients. However these days friends and family can listen to Radio Fox online and even submit requests for you by using our online form on this website.  Also on our website are other services such as Listen Again. This is our catch up service where you can listen again to any of your favourite shows and presenters that you may have missed, again this is a free service.
You can connect to the free UHL Wi-Fi and listen to Radio Fox by following the simple instructions below:
Step 1 – Connect to the free UHL Wi-Fi:
On your Smartphone find the Wi-Fi page by clicking on the Settings icon which should look something like this.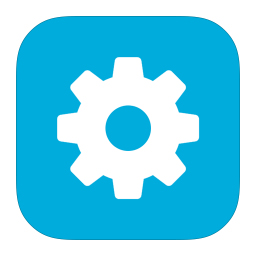 Go to your Wi-Fi or data page and check that the WiFi is turned on, now you should see a page that looks like the image below, remember different devices may have slightly different views: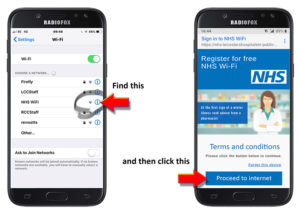 Choose the one that says NHS Wifi, this will be the one without a small padlock to the right. Click on this, there is no need for a password. Then just click OK on the Terms & Conditions button that appears.
Step 2 – Find the Radio Fox website:
Using your device's search engine such as Google, Chrome, or similar search for Hospital Radio Fox. When you see our website home page, as show below, click on the red Listen Live tab at the top of the page and Hey Presto you are listening to Radio Fox. You can also Listen Live by clicking here.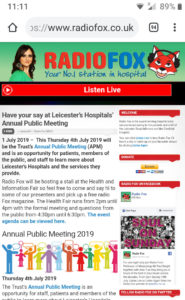 Alternatively:
You can listen to Radio Fox by downloading the TuneIn app.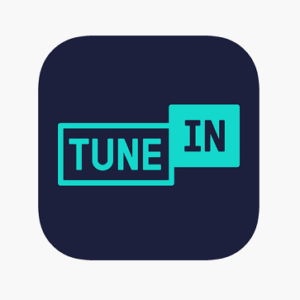 Go to your App Store by clicking on one of these icons: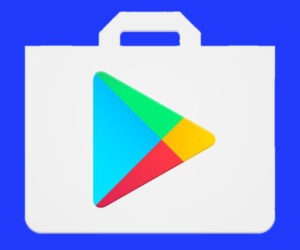 Follow the on screen instructions to download the TuneIn app. Choose the free version of the app.
Once you have the app on your device, open it and search for Radio Fox, once you see our Foxy logo with his headphones just click the triangular Play icon.
Remember the UHL Wi-Fi and Radio Fox are totally free. What's not to like.