Radio Fox NEWS
The very latest from Radio Fox
2 September 2019 – This time of year finds Radio Fox out in the community supporting local events such as the Syston Summer Fayre, the Knighton Park Family Fun Day and the Anstey Gala.
Radio Fox provides the music and our presenters become the MCs for the events. After sitting alone in a studio at the Leicester Royal Infirmary presenting shows for the patients, it's a welcome change for our team of presenters to be out in the sunshine meeting the public. We drink a lot of tea and feast on bacon butties but it's all in a good cause. At your local summer fete you can hear gospel choirs, ukulele bands, rock bands, jazz bands, and from the young people in our communities you can see singers, dancers, karate displays, every sort of talent you can imagine.
Being able to get feedback from the public it's heart-warming to know just how much love there is for Radio Fox out there in the communities of Leicestershire.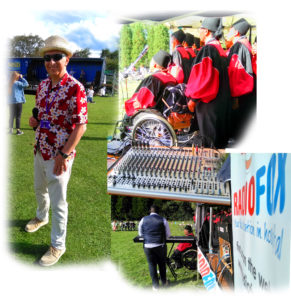 10 July 2019 – Did you know you can now access free Wi-Fi at any UHL hospital? This means you can enjoy listening to Radio Fox in glorious stereo for free on any smartphone, tablet or similar Wi-Fi enabled device.
Follow these simple steps to listen to Hospital Radio Fox whilst you are in hospital. Radio Fox is completely free with no advertising, it is operational 24 hours a day. Hospital Radio Fox is run totally by unpaid volunteers and is broadcast exclusively for patients. However these days friends and family can listen to Radio Fox online and even submit requests for you by using our online form on this website.  Also on our website are other services such as Listen Again. This is our catch up service where you can listen again to any of your favourite shows and presenters that you may have missed, again this is a free service.
You can connect to the free UHL Wi-Fi and listen to Radio Fox by following the simple instructions below:
Step 1 – Connect to the free UHL Wi-Fi:
On your Smartphone find the Wi-Fi page by clicking on the Settings icon which should look something like this.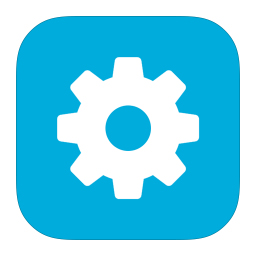 Go to your Wi-Fi or data page and check that the WiFi is turned on, now you should see a page that looks like the image below, remember different devices may have slightly different views: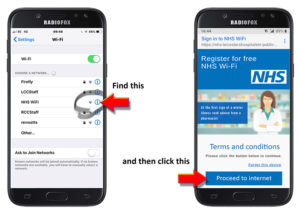 Choose the one that says NHS Wifi, this will be the one without a small padlock to the right. Click on this, there is no need for a password. Then just click OK on the Terms & Conditions button that appears.
Step 2 – Find the Radio Fox website:
Using your device's search engine such as Google, Chrome, or similar search for Hospital Radio Fox. When you see our website home page, as show below, click on the red Listen Live tab at the top of the page and Hey Presto you are listening to Radio Fox. You can also Listen Live by clicking here.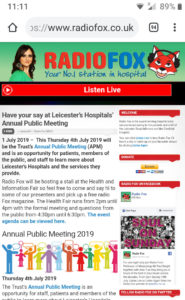 Alternatively:
You can listen to Radio Fox by downloading the TuneIn app.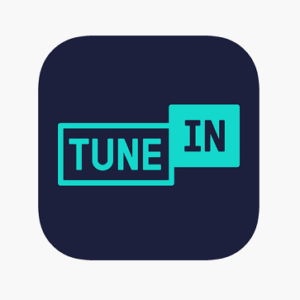 Go to your App Store by clicking on one of these icons: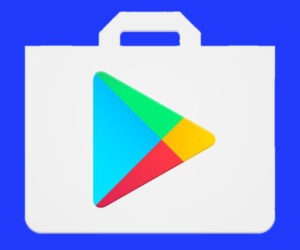 Follow the on screen instructions to download the TuneIn app. Choose the free version of the app.
Once you have the app on your device, open it and search for Radio Fox, once you see our Foxy logo with his headphones just click the triangular Play icon.
Remember the UHL Wi-Fi and Radio Fox are totally free. What's not to like.
1 July 2019 –  This Thursday 4th July 2019 will be the Trust's Annual Public Meeting (APM) and is an opportunity for patients, members of the public, and staff to learn more about Leicester's Hospitals and the services they provide.
Radio Fox will be hosting a stall at the Health and Information Fair so feel free to come and say hi to some of our presenters and pick up a free radio Fox magazine. The Health Fair runs from 2pm until 4pm with the formal meeting and questions from the public from 4:30pm until 6:30pm. The event agenda can be viewed here.
Annual Public Meeting 2019
Thursday 4th July 2019
The Trust's Annual Public Meeting is an opportunity for staff, patients and members of the public to learn more about Leicester's Hospitals and the services we provide.
We would like to invite you to join us at this year's annual event.
Health Fair: 2pm – 4pm
Formal Meeting: 4:30pm – 6:30pm
Venue: Devonshire Place, 78 London Road, Leicester LE2 0RA 
The event will begin with a Health and Information Fair followed by a formal meeting where John Adler, our Chief Executive, will be reviewing the last year and looking ahead to some of the developments and challenges facing Leicester's Hospitals in the coming years.Light refreshments will be available.
The meeting will include an opportunity for members of the public to put questions to our senior leadership team. 
Do I need to book?
There is no need to book a place, simply come along on the day.
Transport and Car Parking
Devonshire Place is close to Leicester City Centre, with easy access to Motorways and less than 2 minutes' walk from the Mainline Railway Station.
There is a car park on site (accessible via Prebend Street).
Alternatively, Victoria Park Car Park off Granville Road is a 10 minute walk from the venue.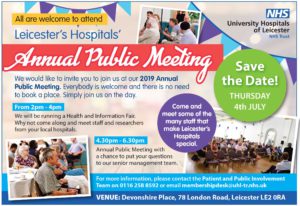 31 May 2019 – The Voluntary Action Leicestershire (VAL) team is planning a packed week of activities to say thank you for the fantastic contribution millions of volunteers make across both local communities and the UK.
Running from Saturday 1st – Friday 7th June 2019, VAL's Volunteers' Week celebrations will kick off in style at the Leicester Riverside Festival. Visitors will have the opportunity to meet some of the VAL team, who will be promoting and showcasing volunteering at the event.
As the week progresses, sessions will be running in Leicester city centre, Hinckley, Loughborough and Ashby, providing information on volunteering within the respective communities and celebrating the amazing work volunteers do.
There will be workshops, 'speed networking' and the opportunity to meet representatives from local charities and organisations. VAL will be celebrating their own volunteers with a shared lunch, where VAL staff will have the opportunity to personally show their appreciation for the great work volunteers do within the organisation.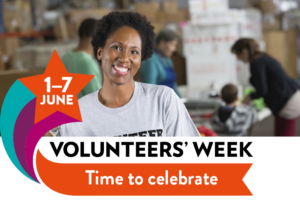 VOLUNTEERS' WEEK ACTIVITIES IN LEICESTERSHIRE
 Saturday 1st June, 12-6pm & Sunday 2nd June, 12-5pm – Leicester Riverside Festival
VAL staff will be promoting and showcasing volunteering at the event with case studies and members of the VAL team on hand to answer any questions.
 Monday 3rd June, 10:30am-12:30pm; Tuesday 4th June, 10:30am-12:30pm & Thursday 6th June, 10:30am-12:30pm – VAL's Volunteering Drop-In for Leicester City, VAL Offices, Newarke Street, Leicester
If you are interested in volunteering, then pop in to speak to someone from the VAL team who will be able to help identify possible volunteering opportunities.
Tuesday 4th June, 10am-12noon – Volunteer Celebration Event, The BRITE Centre, Braunstone
This event will bring together organisations looking for volunteers and involve a 'speed networking' session to give people an opportunity to meet a range of different contacts and ask some key questions. There will also be a short workshop talking about the benefits of volunteering.
Wednesday 5th June, 10:30am-12:30pm – Hinckley Library Volunteer Drop In, Lancaster Road
An opportunity to meet representatives from local charities and organisations – find out how you can make a difference while learning new skills.
Thursday 6th June, 10am-12noon – Volunteer Celebration Event, John Storer House, Loughborough
Similar to the event held in Leicester on the 4th June, this will bring together local voluntary organisations to celebrate the work of their volunteers and network with one another. It will also be open to people interested in volunteering to find out more about local opportunities.
Thursday 6th June, 3-6pm – Ashby Volunteers' Week Event, Hood Park Leisure Centre
This event isn't just about volunteering but celebrating everything that goes on in the Ashby area. From taking up a new hobby or sport, to getting involved as a volunteer or  showing some support for the local community. The session will be open to the public, local groups, businesses and organisations.
Friday 7th June, 10:30am-12:30pm – Volunteers' Week Goes Online
To try a different way of engaging volunteers, VAL are offering a special online 'drop in' service for volunteers and organisations. Members of the team will be available via Twitter, Facebook and an online chat forum to answer any questions and share feedback and learning.
To find out how your business, charity or group could value from talking to VAL contact them on 0116 257 5050 or visit https://valonline.org.uk/
04 May 2019 – On Sunday 5th May the Bluebell Walk and Cycle Ride at Rutland Water returns for 2019. Everyone is welcome to come and join us. We have challenges suitable for all abilities from short walks to a lengthy cycle ride!
Join the hundreds this year at Rutland Water for the annual Bluebell Walk & Cycle Ride to help raise awareness of Crohn's & Colitis UK.  Choose a 2 or 5 mile walk or a 17 or 25 mile cycle ride around Rutland Water, starting at the Whitwell Car Park on the North Shore, postcode LE15 8BL.  This years theme is woodland creatures. Radio Fox will be there to see you set off anywhere between 10am to 12 noon. Challenge yourself, friends or just bring the family along for a great time through the tree-lined and bluebell paths of Rutland Water.  Find some sponsors for your effort, bring a picnic or use the cafes on site. If you wish don't forget to take part in the optional fancy dress theme.  Come and enjoy a walk through the bluebells and listen to the music of Radio Fox. Or even have a nice cup of tea at The Crafty Fox cafe.
Check out the links below to find out more and get involved: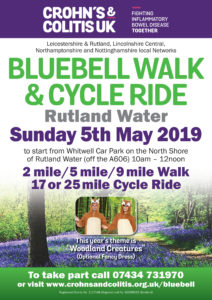 18 April 2019 – It's our birthday so stand by for the official opening of the brand new Studio 1 facility at Radio Fox.
As Radio Fox celebrates its 31st birthday the celebrities arrive on the red carpet to declare our shiny new studio 1 officially open. After years of fundraising, even more years of design and construction the new studio will have its ribbon officially cut on Tuesday 23rd April 2019.
Yes there will be cake, yes there will be Champagne and Prosecco and much celebrating including a day of live broadcasting. New members and old favourites will all be 'doing a turn' on the decks during the day.  The full days schedule is shown below.
It couldn't have been done without the many individuals and businesses of Leicestershire who gave their support including The Elms Social Club in Wigston, Caterpillar (UK), Pall-Ex, Asda, Next, Barratt Homes – North Midlands Division, Cambridge & Counties Bank, Taylor Bloxham, Squire Alarms Ltd, Ibstock Brick Ltd, Police Mutual, Leicestershire & Rutland Freemasons, Pukka Pies Ltd, HSBC Bank, and Ashfield Healthcare. Thank you every one and thank you also to the Radio Fox fundraisers.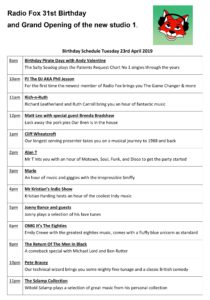 14 March 2019 – Beginning on Saturday 13th April a brand new free exhibition opens at Leicester's New Walk Museum.  Mods: Shaping a Generation explores the sub culture's impact on society.
Mods: Shaping a Generation tells the story of the 1960's Mod scene in Leicester and Nottingham, the exhibition focuses on the themes of social, financial and creative freedom via exclusive first-hand eye witness accounts and unpublished images.
Ahead of the Saturday 13th opening Radio Fox resident Mods Jonny Bance and Cliff Wheatcroft host a 2 hour show on Saturday 6th April from 10am. Jonny and Cliff will be spinning sounds from the era and interviewing Shaun Knapp, author and exhibition curator & designer, Joe Nixon co-founder of Arch Creative and musician Kenny Wilson who was a Leicester Mod at the time.
Plus on Wednesday 3rd April at 8pm Radio Fox cool faces Alan T and Paul Knight host 2 hours of the most excellent Mod tuneage from the sub culture. Levi Sta-Prest trousers, Ben Sherman or Brutus shirts, Brogues, and Harrington jackets are definitely not optional.  On Sunday 14th April Andy Valentine presents a Pirate Dayz Mod Special. Tune in to Radio Fox at 8am to hear some of the finest Mod music.
Both Radio Fox shows can be listened to live by clicking here on the day or you can Listen Again by going to our catch-up listening service after the shows have aired.
The New Walk Museum exhibition also celebrates the 40th anniversary of the release of The Who's cult Mod film, Quadrophenia, and will include a screening of the film, Q&A sessions, plus ephemera and original 1960s clothing as seen in the film.
The exhibition also re-visits legendary hang-outs visited by the Leicester and Nottingham Mods including The Nite Owl, The Il Rondo and the Dungeon. Plus a look at the local Mod bands of the time.
Mods: Shaping a Generation is also on Facebook
13th April 2019 until 30 June 2019 at New Walk Museum & Art Gallery
Free entry, open 7 days a week:
Monday – Friday 11:00 – 16:30
Saturday – Sunday 11:00 – 17:00
15 January 2019 – Back in 2016 Radio Fox began fundraising to buy a new audio desk and refurbish our main studio. All these months later it may have seemed like we had forgotten about it but nothing could be further from the truth.
Our engineering team have been busy all this time and now we are getting very close to completing the project. Very soon on this website you will be able to see the first pictures of our new studio.
Currently we are in the process of fine tuning the audio and associated equipment. At some point in the next couple of months we will be holding an official opening ceremony complete with 'celebrity' guests and popping champagne corks…
It must be said that it couldn't have been done without the many individuals, organisations, and businesses of Leicester and Leicestershire who gave their support including The Elms Social Club in Wigston, Caterpillar (UK), Pall-Ex, Asda, Next, Barratt Homes – North Midlands Division, Cambridge & Counties Bank, Taylor Bloxham, Squire Alarms Ltd, Ibstock Brick Ltd, Police Mutual, Leicestershire & Rutland Freemasons, Pukka Pies Ltd, HSBC Bank, and Ashfield Healthcare.
The wait is almost over.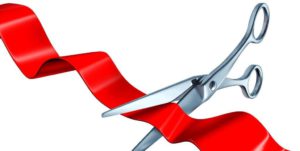 29 September 2018 – Long serving Radio Fox presenter Richard Leatherland has been nominated for the prestigious Caring At Its Best Award 2018.  As well as being a Radio Fox volunteer presenter Richard is also a member of UHL staff.
The annual Caring At Its Best awards ceremony took place recently and saw over 500 staff, volunteers and supporters of Leicester's Hospitals enjoy an evening of celebration at The Athena in Leicester.  Everyone at the event was interested to hear Richard explain all about how Radio Fox supports the patients within Leicester's Hospitals.  As well as being a presenter at Radio Fox Richard has also served on the committee at the station and been involved with fundraising.
The awards are a platform to showcase the hard work of everyone involved in all aspects of Leicester's Hospitals and to commend the achievements of an extraordinary few.
You can listen to Richard live on Radio Fox every Sunday 6pm to 8pm when he hosts The Sunday Selection, the Sunday patients request show. You can also hear Richard live and loud on The Leather & Denim Rock Show every Saturday from 7pm.
You can Listen Live to Radio Fox 24 hours a day but did you know you can also Listen Again on our Catch Up service to any of your favourite shows or presenters including Richard.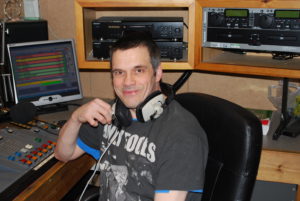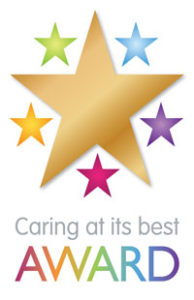 12 September 2018 – The computers are working, the CD players are working, the kettle is working, but for some reason this Friday 14th September 6-2-8 Show vinylmeister Michael Lord will be doing an all vinyl show.
On Friday evening 14th September the unthinkable will happen on Radio Fox… a whole two hours of specially selected vinyl will be showcased on the 6-2-8 Show between 6pm and 8pm show with your host Michael Lord.
All vinyl …. that's ALL vinyl including the usual award winning features – such as "The Song Doesn't Remain The Same" "The A-Z Of One Hit Wonders" and "The Mystery Year"
It can't be done they said…. tune in to see if they were right!!  Tune in right now to Listen Live to Radio Fox by clicking here.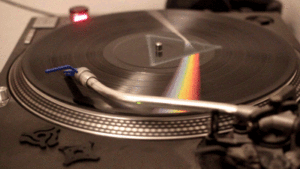 If you are under 30 years old you may have no idea what all this vinyl stuff is, if so click here to see what all the fuss is about.  Turn the volume up and don't be afraid of the crackle.