Have your say at Leicester's Hospitals' Annual Public Meeting
1 July 2019 –  This Thursday 4th July 2019 will be the Trust's Annual Public Meeting (APM) and is an opportunity for patients, members of the public, and staff to learn more about Leicester's Hospitals and the services they provide.
Radio Fox will be hosting a stall at the Health and Information Fair so feel free to come and say hi to some of our presenters and pick up a free radio Fox magazine. The Health Fair runs from 2pm until 4pm with the formal meeting and questions from the public from 4:30pm until 6:30pm. The event agenda can be viewed here.
Annual Public Meeting 2019
Thursday 4th July 2019
The Trust's Annual Public Meeting is an opportunity for staff, patients and members of the public to learn more about Leicester's Hospitals and the services we provide.
We would like to invite you to join us at this year's annual event.
Health Fair: 2pm – 4pm
Formal Meeting: 4:30pm – 6:30pm
Venue: Devonshire Place, 78 London Road, Leicester LE2 0RA 
The event will begin with a Health and Information Fair followed by a formal meeting where John Adler, our Chief Executive, will be reviewing the last year and looking ahead to some of the developments and challenges facing Leicester's Hospitals in the coming years.Light refreshments will be available.
The meeting will include an opportunity for members of the public to put questions to our senior leadership team. 
Do I need to book?
There is no need to book a place, simply come along on the day.
Transport and Car Parking
Devonshire Place is close to Leicester City Centre, with easy access to Motorways and less than 2 minutes' walk from the Mainline Railway Station.
There is a car park on site (accessible via Prebend Street).
Alternatively, Victoria Park Car Park off Granville Road is a 10 minute walk from the venue.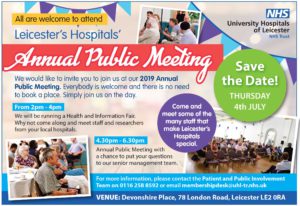 This entry was posted by alentee54 on 1st July 2019 at 2:12 pm, and is filed under Radio Fox NEWS. Follow any responses to this post through RSS 2.0. Both comments and pings are currently closed.