Posts tagged
live radio
18 April 2019 – It's our birthday so stand by for the official opening of the brand new Studio 1 facility at Radio Fox.
As Radio Fox celebrates its 31st birthday the celebrities arrive on the red carpet to declare our shiny new studio 1 officially open. After years of fundraising, even more years of design and construction the new studio will have its ribbon officially cut on Tuesday 23rd April 2019.
Yes there will be cake, yes there will be Champagne and Prosecco and much celebrating including a day of live broadcasting. New members and old favourites will all be 'doing a turn' on the decks during the day.  The full days schedule is shown below.
It couldn't have been done without the many individuals and businesses of Leicestershire who gave their support including The Elms Social Club in Wigston, Caterpillar (UK), Pall-Ex, Asda, Next, Barratt Homes – North Midlands Division, Cambridge & Counties Bank, Taylor Bloxham, Squire Alarms Ltd, Ibstock Brick Ltd, Police Mutual, Leicestershire & Rutland Freemasons, Pukka Pies Ltd, HSBC Bank, and Ashfield Healthcare. Thank you every one and thank you also to the Radio Fox fundraisers.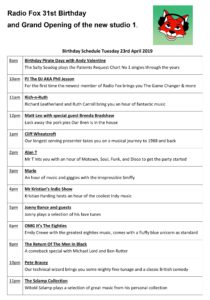 12 September 2018 – The computers are working, the CD players are working, the kettle is working, but for some reason this Friday 14th September 6-2-8 Show vinylmeister Michael Lord will be doing an all vinyl show.
On Friday evening 14th September the unthinkable will happen on Radio Fox… a whole two hours of specially selected vinyl will be showcased on the 6-2-8 Show between 6pm and 8pm show with your host Michael Lord.
All vinyl …. that's ALL vinyl including the usual award winning features – such as "The Song Doesn't Remain The Same" "The A-Z Of One Hit Wonders" and "The Mystery Year"
It can't be done they said…. tune in to see if they were right!!  Tune in right now to Listen Live to Radio Fox by clicking here.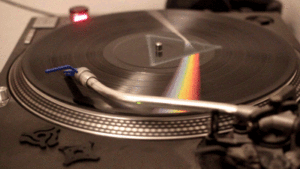 If you are under 30 years old you may have no idea what all this vinyl stuff is, if so click here to see what all the fuss is about.  Turn the volume up and don't be afraid of the crackle.