Coming soon to a hospital near you. The Radio Fox 30th Birthday Party.
11 Apr 2018 – On 23rd April 2018 Radio Fox will be 30 years old. We're not looking bad for our age and we're still as trendy as ever.
Somehow the registered charity Radio Fox has survived 30 years without any official funding.  Recently after 2 years of fundraising by our members we are currently refurbishing our main studio and we want to celebrate our 30th birthday.  On Sunday 22nd April there will be a whole day of 30th birthday broadcasting, from 8am until after midnight see our Birthday Schedule. Over all those years since Radio Fox began many many volunteer presenters have visited and entertained the patients of the Leicester Royal Infirmary and The Glenfield Hospital, and we still do today.  
We may be an oldie but we have kept up with new technology. Nowadays anyone on planet Earth can Listen Live to Radio Fox from home via their PC, tablet, phone, internet radio, or laptop.  Also these days we have our catch up service where anyone can Listen Again to your favourite shows and presenters. Whether you wish to Listen Live or Listen Again our entire service is FREE both to the patients and listeners at home on the internet. With no advertisements and enthusiastic volunteer presenters who love to entertain the patients, what's not to like…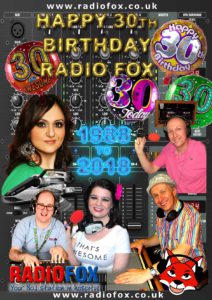 This entry was posted by alentee54 on 14th April 2018 at 1:22 pm, and is filed under Radio Fox NEWS. Follow any responses to this post through RSS 2.0. Both comments and pings are currently closed.