Posts tagged
Birthday
11 Apr 2018 – On 23rd April 2018 Radio Fox will be 30 years old. We're not looking bad for our age and we're still as trendy as ever.
Somehow the registered charity Radio Fox has survived 30 years without any official funding.  Recently after 2 years of fundraising by our members we are currently refurbishing our main studio and we want to celebrate our 30th birthday.  On Sunday 22nd April there will be a whole day of 30th birthday broadcasting, from 8am until after midnight see our Birthday Schedule. Over all those years since Radio Fox began many many volunteer presenters have visited and entertained the patients of the Leicester Royal Infirmary and The Glenfield Hospital, and we still do today.  
We may be an oldie but we have kept up with new technology. Nowadays anyone on planet Earth can Listen Live to Radio Fox from home via their PC, tablet, phone, internet radio, or laptop.  Also these days we have our catch up service where anyone can Listen Again to your favourite shows and presenters. Whether you wish to Listen Live or Listen Again our entire service is FREE both to the patients and listeners at home on the internet. With no advertisements and enthusiastic volunteer presenters who love to entertain the patients, what's not to like…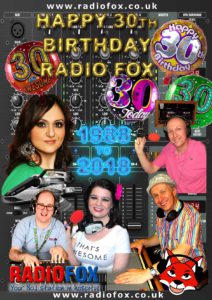 Preparations have begun for our 25th birthday! The big day is on
Tuesday April 23rd but we are planning a whole week of special shows
to celebrate our silver anniversary.
To kick things off you can enjoy every request chart number one played
in order, in a marathon show that starts at 9pm on Sunday 21st April.
That's followed by the countdown of the 30 most requested songs of the
last 25 years and a special edition of All About The Game, where the
team will be playing highlights from our sporting coverage including
key Leicester City commentary.
The birthday itself includes interviews with special guests Martin Hindle, the Chairman of the University Hospitals Of Leicester NHS Trust and June Snowden, the President of the Hospital Broadcasting Association. In the evening we'll be hosting a very special request show featuring all the request show teams and an opportunity for listeners to win tickets to Leona Lewis's upcoming gig in Nottingham.
On April 24th Steve Hack and a former Radio Fox presenter host
Patients Requests: The FInal Dedication, a look back at our nightly
request show with guests on the phone and lots of archive clips.
There are also plenty of former Fox starts making a one off return
including Jim & Dave and Kris Bramwell.
Station Director Steve Hack says: "We still have plenty more
surprises to announce for our birthday week but whatever we do, it's
all about getting our listeners involved in our silver anniversary
celebrations."